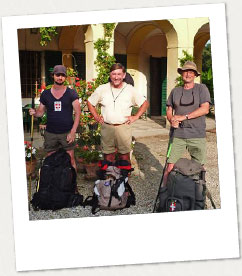 The "direct route"
Chambéry-Torino (August 2010)
The walk of a family whose ancestors come from Savoy made in memory of the annexation of this historical region (and former Duchy) by France 150 years ago.
(In French language only, for the time being...)
With my cousin Jean and his son Étienne, we have walked from the city of Chambéry (which at one point was the capital of the Duchy of Savoy) to Torino (which became later the capital of what, including Savoy, became the kingdom of Piedmont-Sardinia). We crossed the Alps in a quite straight direction within two weeks, covering almost 300 km (190 miles) on foot with more than 12 000 m (40 000 ft) up and down. We finished our journey warmly welcomed by our cousins in San Giacomo and Borgo.