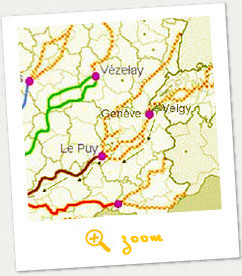 Itinerary
I intend to leave my home in Veigy-Foncenex (Haute-Savoie, France) on Wednesday, April 13, 2005.

I will walk South 15 km to Geneva (Switzerland). There, I will join the traditional route which many German and Swiss pilgrims have done before me: from Geneva to Saint-Antoine-l'Abbaye, Valence and then Le Puy-en-Velay, France (366 km – South-West).
At Le Puy-en-Velay, I will join the so called "Via Podensis". This is one of the 4 main traditional (ancient) pilgrim routes crossing France . From Le Puy, passing through Conques, Figeac, Cahors, Moissac, Aire-sur-l'Adour and Navarrenx, I will head toward Saint-Jean-Pied-de-Port (735 km – SW).
Then I will cross the Spanish border over the Pyrenees Mountains and go through Roncevalles to Pamplona (73 km – S). From Pamplona , I will go due west through Burgos and Leon , all the way to Santiago di Compostela (707 km – W). In total, I should have then covered on foot 1896 km to reach Santiago.
Like many pilgrims have done, after paying my respects to Saint James, I may then wish to pursue slightly further west until I reach the Atlantic Ocean which I will discover from Cabo Fisterra (91 km – W). I will have then walked 1987 km from Veigy to finally reach the coast at the Cape Finisterre of Galicia.
I hope, with God's help, that I can hold an average 20 km per day. So I should need some 100 days (over 3 months) to reach my goal. Ideally, I wish to be present in Santiago on July 25th, 2005, for Saint-James feast day… a very special celebration, I have been told.
As I progress, I will send postcards to my beloved son and webmaster, Nicolas (better known as Nico). He will update this website with excerpts from my journal de route, or poems that I will be inspired with along the way. Perhaps, you will thus feel as if you would travel with me… though with less fatigue!
My return will be a lot easier: either by car, train or plane…


PREPARING:
WALKING:
APPENDIX